Dear Everyone,
I've never had a guest post on my blog. Today, I'm pleased to introduce my first guest post, penned by author Heather Huffman.
Thank you, Heather, for joining us today. – SR
–
Before I wrote Throwaway, I thought slavery ended in the United States when the 13th Amendment was ratified. What I stumbled across while doing research opened my eyes to a world I didn't know existed – to the human trafficking trade in the United States and abroad.
I had no clue what to do about my newfound knowledge, though. I tried getting involved with various anti-slavery groups, but none of them returned my emails. When the obvious failed, I began toying with the idea of using the books as a way to raise awareness, since some of them included human trafficking as plot points.
Then my sisters signed us all up for a human trafficking symposium in January 2011. On our way there, I told them that I wasn't sure how or what it would look like, but I wanted to use my books as a voice for the voiceless. At the conference, as the main speaker was introducing the topics for the day, he said, "Maybe someone here is supposed to be a voice for the voiceless…" The entire row turned and looked at me.
Not long after that, I released four novels as free ebooks. Two of them had human trafficking as plot elements, two didn't. They weren't in-depth examinations of trafficking or anything, more like conversation starters. My books are first and foremost romance novels. Still, all four included an author's note about trafficking along with ways for readers to get involved.
The books went kind of crazy. Tens of thousands were downloaded, and I began hearing from readers all over the world, including some who were former slaves. It was readers who put me in touch with groups like Project Liberty and The Covering House, two organizations on the front lines of the fight against slavery.
About six months after the books were released, I was contacted by a small publisher out of Seattle called Booktrope. After a couple months of discussion, they republished the first four novels and the fifth was in the publication process. I worried the decision to republish would be selling out, but I felt my reach would be greater with a publisher behind the books. Now that the books were being sold, I decided to donate a portion of my royalties to groups fighting trafficking.
Thankfully, Booktrope believes in offering free ebooks often, which means the books are still out there raising awareness. When Throwaway was re-released under their banner as a free ebook, it received 150,000 downloads in the first six weeks of its release. We recently made the ebook format of Throwaway free again (on iTunes In the United States) and plan to leave it that way for the foreseeable future.
When I set out on this venture, I have to admit I envisioned writing a big, impressive check to Project Liberty – something that would make a real difference in their daily operations – but I seem to be better at raising awareness than funds. Still, I'm not sure the amount matters as much as the act of doing something, anything to help. If I waited to donate until I could give an amount that I felt made a difference, that day might never come.
So I give what I can and offer encouragement to those doing the work the rest of us can't. In addition to donating to a couple of groups I trust, I sponsor children through World Vision because fighting abject poverty in third world countries is another way to attack the evil of human trafficking. I also give talks in schools, churches and women's groups about trafficking and how we can keep our children from being victimized. It's an eclectic approach to joining the fight, but then my personality has always been a bit eclectic so I guess that's fitting.
Before I wrote Throwaway, I had no clue about things like human trafficking. Now that I know, I feel like an itty-bitty ant trying to move a mountain. Luckily, I don't have to move the mountain alone. I just have to keep chipping away at it along with everyone else who feels called to move that same mountain. Eventually, we'll get there. – Heather Huffman
Heather & Goatsy
Heather Huffman calls the beautiful Missouri Ozarks home. When not writing, this homesteading mother is either cheering one of her three sons on at a sporting event or tending the family's myriad of animals, which includes alpacas, goats, chickens and ducks. Huffman's optimistic and somewhat quirky view of life often finds its way into her novels.
Heather is the author of Throwaway, Ties that Bind, Jailbird, Suddenly a Spy, Ring of Fire, Tumbleweed, Devil in Disguise, Roses in Ecuador, and her latest book, Fool's Game. You can find out more about her family's adventures as they strive to live off the land, as well as her writing and charitable work on www.heatherhuffman.net
Jessie Jones is living the life–except for the fact that she earns it by working the streets. She's been under pimp Spence's thumb for fourteen years, and she isn't looking to change it. That is, until undercover cop Gabe walks into her life and offers her something she's never had before: a love, a future, a home. But even if Jessie could walk away from Spence, there are darker forces of evil who want her to stay put, or worse, dead.

In this romantic suspense, author Heather Huffman delivers an adventure from the vibrant streets of St. Louis to the caves of the Ozarks as Jessie discovers whether she can love another, whether she can love herself, and whether any of it is enough.
Don't miss Heather Huffman's other books: Suddenly a Spy, Jailbird, Ring of Fire, Ties That Bind, Tumbleweed, and the newly-released Devil in Disguise!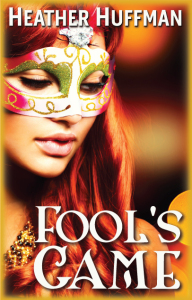 At the request of the U.S. Government, Caitlyn O'Rourke faked her death years ago, only to be reborn as the Cat—a deadly black-ops agent tasked with working for the shadowy organization Chameleon and doing the jobs that can't be done in the light of day. Now, on the verge of taking down a notorious drug lord and rescuing a captured Chameleon agent, Cat is targeted for assassination…from within. But who's making the call, and why?
As she attempts to uncover answers and stay alive, Cat finds herself working alongside Cody Kingsley, the mysterious senator who broke her heart and betrayed her long ago. Along with an inner circle of fellow agents, Cat and Cody must untangle the web of lies that surrounds them before it's too late.
From the sultry streets of New Orleans to a secluded plantation in Ecuador to Washington, DC, Cat must elude an agent hell-bent on her destruction while figuring out how high up the ladder the conspiracy reaches. At the same time, she must work through her tumultuous and conflicting emotions where both Cody and fellow agent Galloway—who may or may not have her best interests at heart—are concerned.
A thrill ride of emotions, suspense, and action, Fool's Game intertwines matters of the heart and survival …and the only thing certain is that Cat will never be the same.
Where to find Heather: