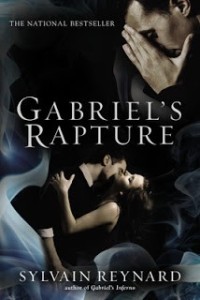 Professor Gabriel Emerson has embarked on a passionate, yet clandestine affair with his former student, Julia Mitchell. Sequestered on a romantic holiday in Italy, he tutors her in the sensual delights of the body and the raptures of sex.
But when they return, their happiness is threatened by conspiring students, academic politics, and a jealous ex-lover. When Gabriel is confronted by the university administration, will he succumb to Dante's fate? Or will he fight to keep Julia, his Beatrice, forever?
In Gabriel's Rapture, the brilliant sequel to the wildly successful debut novel, Gabriel's Inferno, Sylvain Reynard weaves an exquisite love story that will touch the reader's mind, body, and soul, forever.
Enjoy an Excerpt:
Chapter 1
Professor Gabriel Emerson was sitting in bed, naked, reading La Nazione, the Florentine newspaper. He'd awoken early in the Palazzo Vecchio penthouse of the Gallery Hotel Art and ordered room service, but he couldn't resist returning to bed to watch the young woman sleep. She was on her side facing him, a diamond sparkling on her ear, breathing softly. Her cheeks were pink from the warmth of the room as their bed was bathed in sunshine from the floor-to-ceiling windows.

The bed covers were deliciously rumpled, smelling of sex and sandalwood. His blue eyes glimmered, traveling lazily over her exposed skin and long, dark hair. As he turned back to his newspaper, she shifted slightly and moaned.  Concerned, he tossed the paper aside.

She brought her knees up to her chest, curling into a ball.  Low murmurings came from her lips, and Gabriel leaned closer so he could decipher what she was saying.

But he couldn't.

All of a sudden, her body twisted and she let out a heart-wrenching cry. Her arms flailed as she wrestled with the sheet that shrouded her.

"Julianne?"  He placed a gentle hand on her bare shoulder, but she cringed away from him.

She began muttering his name, over and over again, her tone growing progressively more panicked.

"Julia, I'm here," he raised his voice.  Just as he reached for her again, she sat bolt upright, gasping for air.