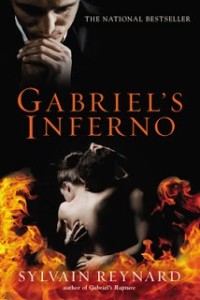 Enigmatic and attractive, Professor Gabriel Emerson is a man tortured by his past. Though he takes great pride in his prestigious role as a Dante specialist, he knows he is a magnet for sin, especially lust.
When the virtuous Julia Mitchell joins his graduate seminar at the University of Toronto, she alters their lives irrevocably. Through their connection, Gabriel begins a journey that forces him to unravel the mysteries of their past entanglement, as well as face his many demons.
A sinful exploration of sex, love, and redemption, "Gabriel's Inferno" is a beguiling intelligent romance filled with intrigue, seduction and forgiveness. Told through witty, dark humor, the narrator relates a captivating tale of Gabriel's odyssey through the Inferno.
Enjoy an Excerpt:
Chapter 1
… Miss Mitchell?"

Professor Gabriel Emerson's voice carried across the seminar room to the attractive brown-eyed young woman who was seated at the back. Lost in thought, or lost in translation, her head was down as she scribbled furiously in her notebook.

Ten pairs of eyes swung to her, to her pale face and long lashes, her thin white fingers clutching a pen. Then ten pairs of eyes swung back to the professor, who stood perfectly still and began to scowl. His scathing demeanor contrasted sharply with the overall symmetry of his features, his large, expressive eyes, and full mouth. He was ruggedly handsome, but in that moment bitterly severe, which rather ruined the overall pleasing effect of his appearance.

"Ahem." A modest cough to her right caught the woman's attention. She glanced in surprise at the broad-shouldered man sitting next to her. He smiled and flicked his eyes to the front of the room, back to the professor.

She followed his gaze slowly, looking up into a pair of angry, peering blue eyes. She swallowed noisily.

"I expect an answer to my question, Miss Mitchell. If you'd care to join us." His voice was glacial, like his eyes.

The other graduate students shifted in their seats and stole furtive glances at one another. Their expressions said what crawled up his ass? But they said nothing. (For it is commonly known that graduate students are loath to confront their professors with respect to anything, let alone rude behavior.)

The young woman opened her mouth minutely and closed it, staring into those unblinking blue eyes, her own eyes wide like a frightened rabbit.

"Is English your first language?" he mocked her.

A raven haired woman seated at his right hand tried to stifle a laugh, smothering it into an unconvincing cough. All eyes shifted back to the frightened rabbit, whose skin exploded into crimson as she ducked her head, finally escaping the professor's gaze.

"Since Miss Mitchell seems to be carrying on a parallel seminar in a different language, perhaps someone else would be kind enough to answer my question?"

The beauty to his right was only too eager. She turned to face him and beamed as she answered his question in great detail, making a show of herself by gesturing with her hands as she quoted Dante in his original Italian. When she had finished, she smiled acidly at the back of the room, then proceeded to gaze up at the professor and sigh. All that was lacking from her display was a quick leap to the floor and a rubbing of her back on his leg to show that she would be his pet forever. (Not that he would have appreciated the gesture.)

The professor frowned almost imperceptibly at no one in particular and turned his back to write on the board. The frightened rabbit blinked back tears as she continued scribbling, but mercifully she did not cry.

A few minutes later, as the professor droned on and on about the conflict between the Guelfs and the Ghibellines, a small square of folded paper appeared on top of the frightened rabbit's Italian dictionary. At first she didn't notice it, but once again, a soft ahem drew her attention to the good-looking man beside her. He smiled more widely this time, almost eagerly, and glanced down at the paper.

She saw it and blinked. Carefully watching the back of the professor as he drew endless circles around endless Italian words, she brought the paper to her lap where she quietly unfolded it.

Emerson is an ass.

No one would have noticed because no one was looking at her, except for the man at her side. As soon as she read those words, a different kind of flush appeared on her face, two pink clouds on the curve of her cheeks, and she smiled. Not enough to show teeth or what could be dimples or a laugh line or two, but a smile nonetheless.

She raised her large eyes to the man next to her and looked at him shyly. A wide, friendly grin spread across his face.

"Something funny, Miss Mitchell?"

Her brown eyes dilated in terror. Her new friend's smile quickly disappeared as he turned to look at the professor.

She knew better now than to look up at the professor's cold blue eyes. Instead, she put her head down and worried her plump lower lip between her teeth, back and forth and back and forth.

"It was my fault, Professor. I was just asking what page we were on," the friendly man interceded on her behalf.

"Hardly an appropriate question from a doctoral student, Paul. But since you asked, we began with the first canto. I trust you can find it without Miss Mitchell's help. Oh, and Miss Mitchell?"

The frightened rabbit's pony tail trembled ever so slightly as she lifted her gaze.

"See me in my office after class."