Dear Everyone,
I'm pleased to reveal the title and cover of the sequel to Gabriel's Inferno.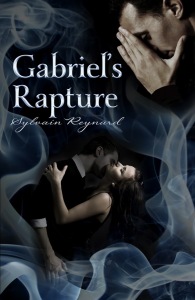 Gabriel's Rapture will be released on 22 May 2012. It will be available in both e-book and paperback formats from Amazon sites around the world, Barnes and Noble.com, and my publisher, etc. It should also be available on Chapters.ca and in the Kobo e-book store.
Gabriel's Inferno (ebook) is on sale on Amazon.com for $4.99. It's available for $6.99 on BarnesandNoble.com and for $5.59 (Canadian) in the Kobo store.
We'll be posting a Giveaway on Goodreads that you can enter to win a copy of Gabriel's Rapture.
I'll also be announcing the contest on Facebook and Twitter.
I hope you like the cover as much as I do. This sequel is for you, my readers.
All the best and thanks for reading,
SR